In summer, people here get their fund-raising boots on and more often than not thoughts turn to Exemption Shows - these are for pedigree dogs, dawgs, mutts and mongrels and are great fun.
Just arrive and enter on the day. Be prepared to enter lots of Variety Classes' - all in a Good Cause
I love them particularly as 'practice' for puppies. They are all on the same format with four 'pedigree classes' - Puppy, Sporting, Non-Sporting and Open. These are restricted to pure-breds. You arrive, park your car at ringside or around the edge of the field, pay a pound or often less per Class and go directly into the ring when called. One thing you must never do is take a dog who has any award towards a title. Often this rules out dogs that really need practice - but the younger stock enjoy themselves and it gives just that little 'edge' over Ring-Craft classes because the desire to win communicates itself down the show-lead to the dog.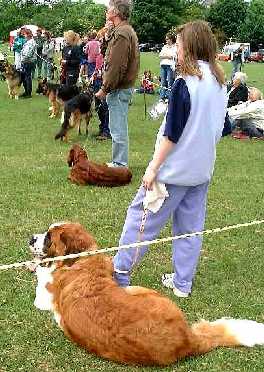 Classes can be huge, so plenty of time for everyone to relax
Very popular are the 'Novelty Classes' open to anyone with any kind of dawg or pooch. Veteran is usually one category, and Best Condition, Prettiest Bitch, Most Handsome Dog, Best Mover, Best Six Legs, Best Rescue (judged on the harrowing story of the rehoming), Dog the Judge Would Most Like to Take Home and any other classifications the organisers can dream up to persuade people to enter and part with their money.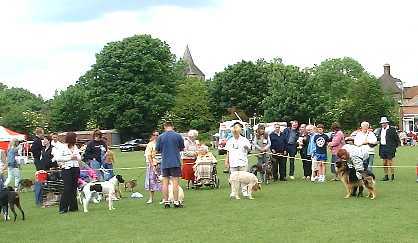 This particular day was cold and windy - but enthusiasm remained undaunted
Sometimes there are several rings with Agility and basic Obedience competitions as well.
Winners often receive rosettes down to fifth and packets of dog biscuits or treats donated by local traders or sponsors. The honours are normally spread around the Novelty entrants, which is why I was surprised to get Prettiest Bitch with Chezz at her first Exemption show after she won Best Puppy in Show in the Pedigree ring ! We often enter more than just the pedigree classes because it IS a fund-raising exercise - that particular weekend all monies raised went towards a mini-bus for an old people's home.
Side-shows and all kinds of stalls or booths abound around the field, there can even be a farmer's market in the vicinity, and if it is a nice day it can be a very pleasant and relaxing day out as well as a relatively painless way to part with money in a good cause. Hamburgers and hot-dogs, toasted sandwiches and ice-creams are all available and we enjoy visiting stalls selling home-made cakes, candies, house plants, herbs, second hand books, goodies made by the disabled (often superlative needlework, basket or wicker-work and hand-work). The organisers encourage all kinds of enterprise to MAKE MONEY for the CAUSE.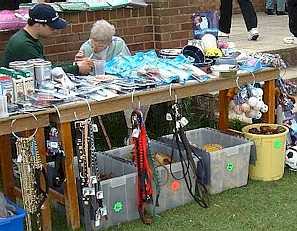 Even if you forget to bring essentials, you can always find a helpful stall-holder
A friend once found Veronica's Blue Book for 10p (100 pence = US$ 1.40 dollars at the moment... so 14 cents) and bought it for me.
And there is always a Raffle ! One show, we left our phone number although we didn't expect to win anything but later I received a call that we had won a bottle of whisky ! I went next day to collect it and it was a presentation box containing a bottle of Glen Morangie - a superb Malt - with a tasting glass complete with glass lid, and two huge boxes of shortbread !
Plessy did her 'Kennel Club Good Citizen (Elementary) Award' (successfully and almost by accident !) several years ago at an Exemption Show, among marching bands of school children and an abortive attempt (too much wind) to get a hot air balloon up in the air. It was hair-raising. I had taken her to the show for a bit of fun and practise and saw a well-known Basenji owner there so figured I didn't have a prayer in the ring. (She went RBIS (Reserve Best in Show) and we did get dumped !!!)
We walked around a bit - there was all sorts going on - and saw the police were doing the KC Good Citizen awards so I decided to try Plessy. More money for the Good Cause and a possible 'education' for me ! The lady taking entrance money asked me if I knew what to do and offered me a list of the accomplishments Plessy would have to exhibit. I told her 'No, and don't tell me. If I know what is expected, I will chicken out !'
The ring was huge and dogs were assessed one at a time. When it was our turn, the Policeman asked me if I had any poop bags ? yes ! of course I did, in my pockets as well as in the dog-bag. Did I have any kind of grooming tools with me ? Yes ! Permanent residents in my show-bag, grooming glove, chamois, all kinds of things. Then he asked me if I knew how to fit a choke chain correctly and had me put one on Plessy. That was OK and we had quite a chat, while Plessy sat beside us. Apparently this was part of the deal. The assessor has to keep the handler in conversation and the dog must sit quietly for a certain length of time. Plessy did just fine, sitting quietly beside me, looking alert and interested in all that was going on around her
Then we had to walk around the ring at different speeds with the dog under control and for some obscure reason, go through a gate (real one) which was positioned in the centre of the ring. No problem with any of that. Apparently some people don't know how to go through gates and their dogs balk. I even shut the gate after us (this is farming country and something we are brought up to). Then I had to get her to lie down. Now THAT was a problem but I sat on the grass and she immediately climbed into my lap and curled up - the policeman accepted it.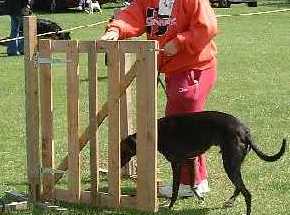 Going through the gate correctly !
Next requirement was a down-stay. I told him I wouldn't be able to do that, nor a sit-stay, but that I could do a stand-stay. He warned me that that was FAR more difficult, but I could try it if I would. I walked Plessy across the ring, stacked her, slipped her collar from her neck, told her STACK and walked back across the ring.
Plessy froze ! She was stunned, I think, at having her collar taken right off. Then I called to her and 'accidentally' dropped a paper-hanky. Plessy came at once and stood close to me. I wish I could tell you she sat at my feet and yodelled, but she didn't. However the policeman was VERY impressed and gave us our Elementary Certificate !!!!
He asked me how long it had taken me to train her. HAH - we couldn't have done it a second time. Novelty, with a Basenji, is everything.
Apart from being a lovely day out which you can share with your dogs, there is just that little frisson of 'I want to win' which goes down the lead to the puppy and makes it a better training than simply going to Ring-Craft classes. One day I might write about the Championship Show Scene, but in the meantime, a Fun Day can be more fun - - -